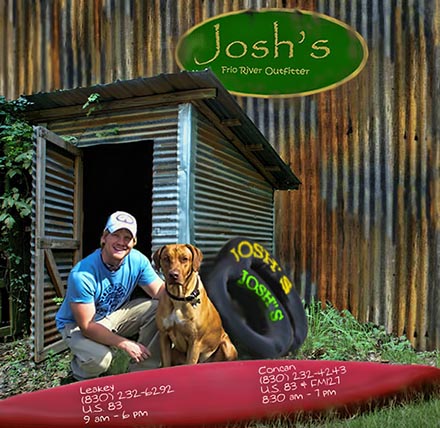 Who is Josh, and why is his name on all of these T-shirts?! "Josh" Granberry Shandley II is a third generation avid fisherman. His grandfather, Jack Shandley, was known as the "Old Pro" or "Kickapoo Kid" on his daily radio fishing report in the early 70's. He was the Grand Old Man of Lake Livingston - The Guide's Guide - Mr. Jack.
Josh's father Gran Shandley aka "Pop" also loves to fish, so much so that he fishes competitively in both fresh and salt water tournaments. The fishing trips that Pop enjoys most however, are the ones which his grandkids can tag along! Pop is often at the store helping out or enjoying some gelato and will let you in on some of his fishing tips and tricks if you ask him!
In the summer of 1991, Josh's dad, Gran asked Josh if he would like to open a bait & tackle shop and rent a few inner tubes. So, at the age of twelve, Josh opened "Josh's Landing" in a spare room of his dad's real estate office building in Leakey, Texas. Using a broken freezer for minnows and an old metal desk for his cash drawer, Josh learned the retail business along with how to patch inner tubes very quickly.
As the years went by, the business grew along with its popularity, and each summer walls were knocked out of the real estate building to accommodate the growth of Josh's store. In 2005 Josh asked "Uncle Bob" Shandley, owner of Canyon Log Homes and a home builder for forty-five years, to construct a new 4,500 sq. foot building. In the summer of 2006 the Concan store was opened with a rustic interior of 110 standing trees and timber hauled from New Mexico - a real site to behold.
Josh's mom, Keitha Shandley or "KK" as her grandchildren know her, also had a part in the construction of Josh's Frio River Outfitter! She shared both her eye for interior design and her creative talent in the store. Just wait until you step into the woodsy feel of Josh's and see it with your own eyes, without doubt you will admire her hard work! The store is one of a kind fashioned in true hill country style; rustic décor is everywhere! She even has a section inside Josh's called Mountain River Trading Company! It boasts Rustic Cabin and home decor merchandise. You will find a large assortment of candles, flowers, vases, art, wall and table decor. Step into the woodsy feel of Mountain River Trading Company...and find your rustic style treasure.
January 2015 was the grand opening of Gran's Guns in Leakey! We have a HUGE selection of both guns and ammo! Come by and get a Frio River souvenir.
Josh's is home to the always fabulous Frio Gal Boutique! Tessa is always stocking the boutique with gorgeous outfits and accessories! Our clothing selection is extensive and it doesn't stop there, custom Kurtmen handbags and boots, Pink Panache jewelry..., the list goes on and on. If you are a Texas queen looking for something that is 100% Texan, you HAVE to stop by and shop or check us out on Instagram and Facebook! We ship everything for free!
Today, the name on the building is "Josh's Frio River Outfitter." When patrons and vacationers come by to see the new store, their comment is always, "Oh my gosh, Josh!"
Josh got married January 7, 2012 on the beautiful Frio River in Leakey, to his bride Tessa. Some exciting things have happened to Josh in the past few years but the most exciting is the newest additions to the family. Born on March 21, Gran Shandley III, and named after his "Pop" who we love and admire. Tessa and Josh couldn't be happier to introduce him to you! Now Gran is a big brother to Princess Eileen, she was born May 5. Tessa, Gran & I couldn't be more in love with Eileen, she is just precious. We are thankful for all of our Blessings.
At Josh's we pride ourselves in having the absolute BEST customer service! Each and every summer we have a great team of young locals, always happy & ready to serve you. We are here to make your vacation that much more enjoyable! There are many stores on the Frio River but few that have been around as long or that can compare to the beauty of the one of a kind woodsy, cabin decor you find when you step into Josh's! If you want to go to the most unique experience please come to Josh's.
Being a family store, Josh's makes sure to have something for everyone in the family, so please stop in and visit a while, have some coffee (espresso, lattes, frappes and cappuccinos) or homemade gelato (Italian ice-cream). We look forward to seeing you!
Josh, Tessa, Gran & Baby Eileen are always around... unless of course they've gone fishin'